Recently, I was asked by Amazon.com to help them with their brand spanking new feature called
Collections
!
Collections enables you to assemble outfit ideas for say an upcoming wedding you're attending this fall, your summer vacation or you can devote an entire collection one wardrobe item, like shoes!
Organize items by type, designer, season, price range, trend, or color. It's only limited by your imagination. And you can follow other users' Collections to see what they've amassed and simply move the things you like to your own Collections.
Below is a screen shot from my 'My Style' Collection. I was given a $100 certificate in exchange for being an advisor on Collections and with it I bought a few things including the striped French Connection top below.
I could hardly wait to wear it once it arrived. It's so versatile I wore it three ways.
Remember the Banana Republic navy maxi skirt I wore to
Tori's graduation
? I wore the striped top with it, adding a few strands of faux pearls…
and some simple navy ballet flats on my feet.
The top was calling for some pattern mixing, plus it was cool out, so I tied an Old Navy leopard print cardigan around my waist for a second look…
and traded navy blue ballets for nude.
For a preppier look I wore a consigned J. Crew blazer and boyfriend jeans…
with nude patent pumps by Steve Madden and a Louis Vuitton Alma bag.
I'll be getting a lot of wear out of this top and I have several other things in my Collections I am itching to purchase like this, this and this.
I love Amazon's fast shipping, free returns and great customer service. Collections make online shopping fun and easy!
Log into your Amazon account to see my Collections and then create your own.

Go Patti!!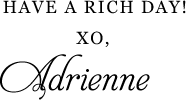 Disclaimer: I was given a $100 voucher to use on Amazon.com in exchange for creating and promoting my Collections. Actions from the links provided may generate commissions for The Rich Life (on a budget).
Other posts you may enjoy...