Tori and I are back with another 
One Trend, Two Generations 
post. This time the trend we are featuring is French-themed T-shirts and it's sponsored by 
Mad Monkey Clothing
.
I met Grace, owner of Mad Monkey Clothing in Port Hope, Ontario, Canada through our mutual friend, Avril of Royal Ribbons.
Grace is a 31-year-old business woman who bought Mad Monkey Clothing six years ago when she was just 25. Grace asked her then boyfriend, now husband for a loan to buy the existing shop and paid it off within the first year of business.
Grace's success with the boutique has grown significantly since then. Mad Monkey Clothing carries over 20 brands such as Free People, Kensie and Roxy. Grace has something to catch the eye of every generation.
I admire Grace's go-getter attitude and her commitment to making her customers look and feel their best in fashion forward clothing. And she is a generous, kind and smart woman, too.
Grace sent me this limited edition Billabong Catching Up Muscle Tank, a design collaboration by the well-known blogger and model, Alexandra Spencer of 4th and Bleeker and Billabong.
I love almost anything French and this deep blue color is beautiful. I glammed it up a little and made it more mature with a beaded collar necklace and vintage Dior cropped jacket (thrifted).
Red nails and lips seemed like the appropriate choice for this top.
Grace sent Tori this T-shirt from CHRLDR, pronounced "Cheerleader", a Canadian company out of Montreal.
Tori wore red lipstick and a Zara faux fur collared jacket with her top that reads "Bonjour Garçons".
I think her T-shirt is darling on her and she's the ideal age for a fun top like this one.
Here we are hamming it up in our French T-shirts at the local car mechanic's shop. You know, just a regular day in the wine country.
Tori and I both adore our tops from Mad Monkey Clothing. I will not hesitate to shop Grace's newly redesigned website even if she is in Canada. Small women-owned businesses are my favorite businesses to support no matter where they are.
Please check out all the great items on the Mad Monkey Clothing website. Here are a few of our favorites:
Grace is offering 50% off everything on the website for 24-hours starting midnight Monday, December 2nd. Use promo code CYBER50.
And from Tuesday until the end of December, get 25% off all orders at Mad Monkey Clothing by using the code DEC25.
See? I told you she was generous! 
Thank you, Grace for sponsoring our latest One Trend, Two Generations! 
********************************************************
I hope you have had a chance to enter to win this luxury lightweight, quiet and sleek professional hair dryer. If not, go to this link to find out how to put your name in the cyber hat.
It's a $344 value and the best hair dryer I have ever owned, hands down! Open to US addresses only.
It's Visible Monday week. Do drop by to see what Patti and all of her participants are wearing this fine Monday.
If you aren't already aware, How I Wear My: Red has been postponed until next Monday, December 9th due to some scheduling conflicts.
Please send in a photo of you wearing red to howiwearmy@yahoo.com by December 8th to be featured.
Jill of Everything Just So and I can't wait to see how you wear your RED!
Today I am off to visit a couple of inns, a few wineries and an olive farm on the central coast of California. Follow me on Instagram for lots of photos of my trip. I'll be back in a couple days!
I hope you all….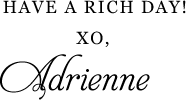 * All photos of Tori and me were taken by my friend, professional photographer and extraordinary tote bag designer, 
Sylvia Steininger.
Disclosure: Both T-shirts were given to me and Tori by Mad Monkey Clothing to review and keep. All opinions about Mad Monkey Clothing and the garments are my own. 
Other posts you may enjoy...